Review of Austin Goh's Butterfly Knives Form DVD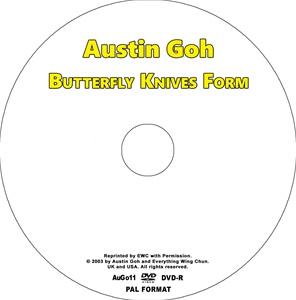 Customer/3rd Party Review: This review was done by a customer/3rd party and is listed here for you reference only. The views and opinions of the reviewer are not those of Everything Wing Chun and do not necessarily reflect EWC's views or opinions on the subject matter. It is posted, like all customer reviews, to give you more info on the product and to give you different opinions on a product so that you can make the best decision for yourself about its content. The review is NOT by an EWC employee or contractor and EWC cannot stand by anything said in any customer/3rd party review. Enjoy!
Reviewer: George Hernandez
Date: February 10, 2010
DVD Bought on: Everything Wing Chun and is also available for download on Everything Wing Chun Instant Access

Technical Specifications:

Title: Austin Goh, Butterfly Knives Form
Format: PAL DVD-R
Region: Region 0
Number of discs: 1
Length: 29:35
Rating: 2 Stars out of 5
DVD Release Date: 27 Nov 2006

What It's About:

This DVD provides basic instruction in the 108 "Butterfly Knives Form" of the Wing Chun Kung Fu System.

Comments:

This DVD presents the basic movements of the "Butterfly knives Form" or Butterfly swords of the Wing Chun Kung Fu system. The form is performed by Sifu Goh, in a more or less continuous form style. Critical movements and their Cantonese terminology are presented in titled frames, before each performance. These Chinese or Cantonese terms are given in Pin Yin and English. If you are unfamiliar with the terms in Wing Chun Kung Fu or with the sword form specifically, this will be an excellent DVD, to learn the Chinese terminology correctly. This would be a great learning aid and definite help if you plan on traveling aboard to learn Kung Fu at a Chinese School.

If you find it difficult to follow along in a DVD presenting forms in solo fashion, you'll find this presentation helpful because Sifu Goh, demonstrates the "Butterfly Knives Forms" numerous times, so the viewer will have ample opportunity to learn the specific sequences within a continuous style without interruptions.

Content Over View: Austin Goh, Butterfly Knives forms

Introduction
Historical attributes-Wing Chun's most Secret Form-
Taught only to a select few or privileged disciples.
Demonstration – Basic Knives Movements
Hoi Tao
Bil Tao
Quan Tao
Lok Ma
Sou Tao
Kang Tao
Siong Ma
Butterfly Knives form Demonstration: One
Sifu Goh, performs the 108 movments
The Ten Sections of the Butterfly Knives Forms
Section one : Hoi, Opening
Section two: Bil Tao, Knives Piercing
Section three: Tan Sau Tao, Opening Hands Knives
Section four: Kang Tao, Double Knives Form
Section five: Quan Tao, Low Block Knives
Section six: Kuan Tao, Pole Knives Form
Section seven: Fat Sao, Upper Stick Form
Section eight: Bao Chiam Tao, Elbow Knives
Section Nine: Wu Tip Tao, Butterfly Knives Forms
Section Ten: Sao Tao Finishing of Knives Form
Advice From Sifu Asutin Goh
Short narrative: The purpose of training with the Butterfly Knives
Demonstration of the Butterfly Knives form – Two, 108 movements
Demonstration of the Butterfly Knives form – Three, 108 movements