Review of the Ving Tsun Musuem's Wing Chun Series #8 Shaolin Wooden Dummy (Part Two, Sections 5-8) DVD by Sifu Benny Meng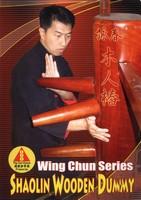 Customer/3rd Party Review: This review was done by a customer/3rd party and is listed here for you reference only. The views and opinions of the reviewer are not those of Everything Wing Chun and do not necessarily reflect EWC's views or opinions on the subject matter. It is posted, like all customer reviews, to give you more info on the product and to give you different opinions on a product so that you can make the best decision for yourself about its content. The review is NOT by an EWC employee or contractor and EWC cannot stand by anything said in any customer/3rd party review. Enjoy!
Review of: VTM Wing Chun Series #8 Shaolin Wooden Dummy (Part Two, Sections 5-8) By Sifu Benny Meng
Review by: Todd Taganashi
DVD Bought on: Everything Wing Chun
This DVD is also available for download on Everything Wing Chun Instant Access
Quick Review:
Shaolin Wooden Dummy Part Two focuses on sections five through eight of the wooden dummy form. The last sections of the dummy form contain a wide variety of kicking techniques as well as the quick trapping hand movements of Wing Chun. Sifu Meng is assisted by three of his top students who help with the demonstrations. I really like this because it gives you a sense of how Sifu Meng teaches in person and it is also nice to see how his students move on the dummy as compared to their teacher. As Sifu Meng pointed out in the first Wooden Dummy video, teaching the movements of the dummy form without explaining the concepts behind them would be very superficial. It is here in the full explanation of Wing Chun's fighting concepts that Sifu Meng separates his videos from so many others on the same subject. Sifu Meng always makes it a point to stress the fighting concepts over the techniques. Every technique taught in this video is backed up by a detailed explanation of the fighting concept that makes it work. Training on the Wooden Dummy is a way to perfect your positioning and it also reinforces the need to stick tight to your opponent and rely on the main concepts of Wing Chun centerline, facing, and economy of motion. When it comes to the applications of the wooden dummy it is always great to see Sifu Meng's applications demonstrations. The effortless manner in which he performs is very impressive but it is also the practicality of his movements which make an impression. Of course this effortless practicality is what Wing Chun is all about, but it goes a bit further than that. Throughout this video Sifu Meng stresses combat efficiency and how that efficiency can be perfected through sticking to the fighting concepts of Wing Chun. At the end of this video Sifu Meng touches briefly on the subject of Da Hung Jong (Training the form without the Dummy). This training without the dummy isn't practiced in every Wing Chun school by it has been my experience that this type of training is great for developing more fluid movement and it is a great supplement to training on the dummy itself. The two part Wooden Dummy DVD series is definitely worth the investment truthfully I don't think there is any way that Sifu Meng could have covered this subject in such great detail in only one video.

Technical Review:
DVD Length: 49 Minutes
Display: NTSC
Region: 0
Type: DVD-R
Language: English (No Subtitles)
Video Quality: High (Professional Production)
Audio Quality: High (Professional Production)
Content Review:
Complete Wooden Dummy Form Demonstration by Sifu Benny Meng
Section Five (Techniques, Concepts, and Applications)

Po Pai Jeung (Vertical)
Gwan Sau / Po Pai
Bon Sau / Po Pai
Gan Sau / Po Pai

Section Six (Techniques, Concepts, and Applications)

Bon / Tan Trapping Sequence
Front, Side, and Back Stomp Kick

Section Seven (Techniques, Concepts, and Applications)

Front Kick
Side Stomping Kick
Sweeping Kick

Section Eight (Techniques, Concepts, and Applications)

Low Bon Sau (Redirecting Energy or Dominating the Centerline)
Lap Sau with Sweeping Kick
Wrong Side Bon Sau
Gum Sau (Low Line Covering)
Avoiding Incoming Energy

Da Hung Jong (Training the form without the Dummy)
Question & Answer

How do you know how to use the proper angles training when on the dummy?
What are the consequences of being too far from or too close to the dummy?
What is the proper energy used during the Wooden Dummy form?
At what point is the Wooden Dummy form usually taught at the standard Wing Chun Gung Fu School?

Conclusion: "Remember the Wooden Dummy is a Tool"