Brian Dalhover
Historical Ancestors > Yat Chum > Cheung Ng (Tan Sao Ng) > Leung Yee Tai > Dr. Leung Jan (Leung Tak Wing) > Chan Wah Shun > Ip Man 葉問 (Yip Gai-Man) > Ip Chun 葉準 > Samuel Kwok > Brian Dalhover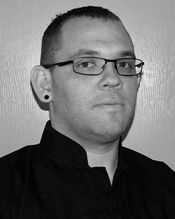 Bio Info:
Sifu Brian Dalhover (郭忠恒)
Sifu Brian Dalhover's love of the martial arts began as a young boy watching martial arts films with his father. Around the age of six he was enrolled in his first martial arts class learning Tae Kwon Do. Brian's first exposure to Wing Chun also came from his father as he would take Brian along to classes at a local Wing Chun studio. Although learning only the basics of Siu Lim Tao and not taking traditional classes this was the spark that burns to this day.
Read more
Bio (con't)
At the age of sixteen, Brian moved to Seattle, WA with his father and quickly began formal training in Wing Chun under Sifu John Lapham. While Brian learned a great deal under Sifu John's instruction, it wasn't until he returned to Idaho that he really began to understand Wing Chun. After meeting Sifu Tim Henderson, Brian found the understanding of Wing Chun not only as a martial art but as a lifestyle.
Brian along with his wife Dominique and two children were transferred to Maricopa, AZ in June of 2007 by his employer. To maintain his training in Wing Chun, Brian began hosting annual seminars in Arizona with Sifu Tim Henderson and trained with Sifu Barry Terrell Jr. In October of 2009 Brian was invited to attend a seminar with Grandmaster Samuel Kwok, which became an opportunity that changed the direction of Brian's training in Wing Chun. Through the following months, Brian began building a relationship with Master Kwok, eventually being accepted as a direct disciple. Brian is extremely thankful for all of the instructors he has had and wishes to pay each of them respect by continuing to spread the knowledge of traditional Ip Man Wing Chun. Brian is the head instructor for the Maricopa Wing Chun School.
Born: Jul 10, 1984
Last updated: Jan 30, 2012