Wayne Goss
Historical Ancestors > Yat Chum > Cheung Ng (Tan Sao Ng) > Leung Yee Tai > Dr. Leung Jan (Leung Tak Wing) > Chan Wah Shun > Ip Man 葉問 (Yip Gai-Man) > Duncan Leung (Leung Shiu Hung) > Wayne Goss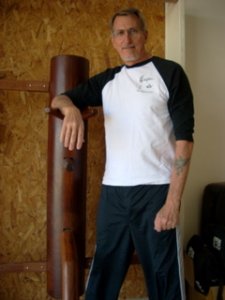 Bio Info:
Student of Sifu Duncan Leung since 1975.
"I am a guide more than a teacher. I am not an expert, master, or champion. I only strive to be a good Martial Artist. I have a good understanding of the logic and principles of Wing Chun techniques. It is important to start early in life and work intensely as possible while you are at your physical and mental peak, and have few obligations. You can learn much with dedicated practice. You will be amazed at what you can do.
Read more
Bio (con't)
My goal is to help YOU become the best martial artist. I will give you as much information and training methods as you can handle. I want you to be successful and enjoy Wing Chun.
FOCUS is the purpose, benefit, and method of martial arts training. Focus determines your reality. Where is your focus?"
Last updated: Sep 27, 2011