Steven T.K. Chan
Historical Ancestors > Yat Chum > Cheung Ng (Tan Sao Ng) > Leung Yee Tai > Dr. Leung Jan (Leung Tak Wing) > Chan Wah Shun > Ip Man 葉問 (Yip Gai-Man) > Chow Tze Chuen 鄒子傳 > Steven T.K. Chan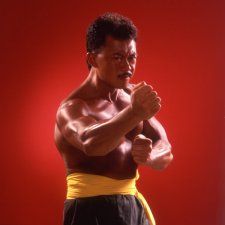 Bio Info:
Stringently dedicated to and a devout pursuer of Chinese Kung Fu, Grandmaster Stephen T.K. Chan was not always an example of physical fitness. In the 1960's, as a child, he was sent by his parents to a boarding school in England, where due to his small physique, he found it difficult to participate in the numerous sporting activities of the British people.
Read more
Bio (con't)
Eager to improve his state of fitness, the then young Stephen wrote to his parents in Hong Kong and asked his father to locate a Master Kung Fu Practitioner on his behalf, so that during the holiday period he could begin the process of developing his physical stature.
During the next long holiday, Stephen was counseled by a Traditional Chinese Physical Educator, who through his experience recommended Wing Chun Kung Fu to Stephen, because of Stephen's somatotype and the Wing Chun School's direct, economical, easy to adapt style.
Based on the premise that the shortest distance between two points is a straight line, the Wing Chun School has been designed to facilitate economy of movement without inhibiting reaction time and speed of movement, the most important factors in any combat situation, whether within a competition or street encounter.
Introduced by his cousin to Grandmaster Chow Sze Chuen a closed door disciple of Great Grandmaster Yip Man, Stephen found himself in the hands of most in-depth Wing Chun School study programme provided in the Clan's history.
Being trained from the grassroots, Grandmaster Chow Sze Chuen took the advantage by molding Stephen into a finely tuned Wing Chun Practitioner, with not only the basic instruction being passed, but also the closed door secrets of Great Grandmaster Yip Man, which involved full weaponry and complete knowledge of all kicking techniques. Grandmaster Chow Sze Chuen was a truly gifted fighter, all of which he humbly contributed to Great Grandmaster Yip Man, who after recognizing the similarity of Grandmaster Chow Sze Chuen's physique to his own, used Grandmaster Chow Sze Chuen as his private sparing partner, and it was through this lifelong relationship that he obtained the deep essence of the Wing Chun School.
Last updated: Sep 18, 2011