Sonu Kumar Giri
Historical Ancestors > Yat Chum > Cheung Ng (Tan Sao Ng) > Leung Yee Tai > Dr. Leung Jan (Leung Tak Wing) > Chan Wah Shun > Ip Man 葉問 (Yip Gai-Man) > Ip Chun 葉準 > Samuel Kwok > Chaitanya R Naik > Sonu Kumar Giri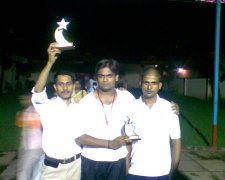 Bio Info:
Started martial art training in 1993, and my first wing chun sifu is C.V Liv (Associate Instructor of Gm Jim Fung wing chun academy "International Wing Chun Academy, Australia), I achieved the black Sash and instructor level from sifu liv's Wing Chun Association.
After this Course I decided to join Samuel kwok Wing Chun Martial art Association, then I met sifu Chaitayna Naik and he accepted me as a first wing chun student , after some year Gm Samuel Kwok certified as a international Instructor of Samuel Kwok Wing Chun Association.
Read more
Bio (con't)
I am Listed on official web site : http://www.kwokwingchun.com/clubs/asia-clubs/india/
Ip Man->Ip Chun & Ip Ching->Samuel Kwok->Chaitayna Naik->Sonu Kumar Giri. Ip Man->Chu Seung Tin->Jim Fung->C.V Liv->Sonu Kumar Giri.
Born: Dec 31, 1985
Last updated: May 6, 2013