Rocco Ambrose
Historical Ancestors > Yat Chum > Cheung Ng (Tan Sao Ng) > Leung Yee Tai > Dr. Leung Jan (Leung Tak Wing) > Chan Wah Shun > Ip Man 葉問 (Yip Gai-Man) > Bruce Lee 李小龍 > James W DeMile > Rocco Ambrose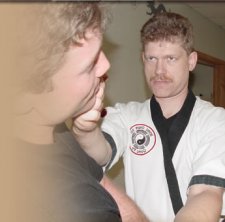 Bio Info:
In 1984, I had the pleasure of meeting Sijo James DeMile in a seminar at the school and realized that I wanted to be an instructor in WCD. In 1985, after receiving my brown belt, I along with several Sihings (senior instructors) petitioned Sijo DeMile to start a new instructor-training program. I was convinced that WCD was the best self-defense system in the world.
Read more
Bio (con't)
In 1988, I was certified as Basic WCD Instructor (Sifu) and began teaching at the local YMCA. In 1989, I opened my first school and began to develop my teaching skills. After running a successful school for several years, I received full certification as an Advanced Level WCD Instructor in 1993.
In 1996, was chosen charter member of the Board of Directors for the Wing Chun Do International Association. In 1999, received promotion to Sibok (Senior Instructor ) and began training instructors for WCD International. Actively teaching seminars and instructor training camps throughout the U.S. and abroad. Appeared in Grandmaster James W. DeMile's book the Tao of Wing Chun Do and is featured on DeMile's video, Bruce Lee's One and Three Inch Power Punch. In June 2001, at the first Annual Wing Chun Do Convention, held in Waikiki, Hawaii, was named Instructor of the Decade for his innovations and contributions to Wing Chun Do.
In 2002, Sijo presented Sibok with the prestigious Sijo Award.
Last updated: Nov 7, 2011