Rene Ng
Historical Ancestors > Yat Chum > Cheung Ng (Tan Sao Ng) > Leung Yee Tai > Dr. Leung Jan (Leung Tak Wing) > Chan Wah Shun > Ip Man 葉問 (Yip Gai-Man) > Ho Kam Ming 何金銘 > Rene Ng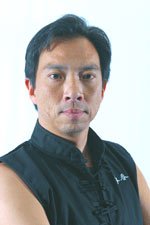 Bio Info:
Long time disciple of Sifu Ho Kam Ming, and practitioner of Chinese Medicine. Rene learned his Wing Chun at the Macao Wing Chun Athletic Association, and teaches classes in San Diego, CA adn Sarasota, FL.
Sifu Ng was born and raised in the small city of Macao in Southern China. He received his primary and secondary education at the Yuet Wah College of Macao, a school famous for both academic and athletic excellence. It was also known to have many good Wing Chun fighters among its teachers and students.
Read more
Bio (con't)
In 1973, Sifu Ng was introduced by his classmates to Master Ho Kam Ming. He was accepted as a Disciple by Master Ho into the Macao Wing Chun Athletic Association and began his Wing Chun training there. In 1982, he came to the United States and in 1987 moved to San Diego from Washington, D.C. All during this period of time, he continued to practice Wing Chun diligently and conducted research in the system. Then, in 1989, he returned to Macao and trained intensively under Master Ho for nearly two years to refine his skills before returning to San Diego in January, 1991. It was during this period of time that he was instructed by Master Ho to accept students of his own and to pass on the Wing Chun system.
Last updated: Sep 27, 2011