Michael Adams
Historical Ancestors > Yat Chum > Cheung Ng (Tan Sao Ng) > Leung Yee Tai > Dr. Leung Jan (Leung Tak Wing) > Chan Wah Shun > Ip Man 葉問 (Yip Gai-Man) > Leung Sheung 梁相 > Leung Ting 梁挻 > Michael Adams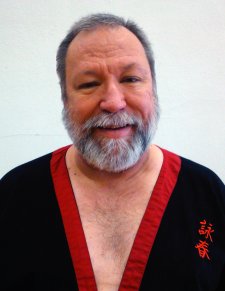 Bio Info:
Mike Adams is a direct student (a To-Dai, or "Kung Fu son") of Great Grandmaster Leung Ting. In March 2011 he became the third of only three Americans ever promoted to 5th Level Practician (Master) by Great Grandmaster Leung Ting.
Read more
Bio (con't)
Sifu Adams began his WingTsun training in Texas in 1980 during Great Grandmaster Leung Ting's first trip to Texas from Hong Kong. He has been teaching Leung Ting WingTsun® professionally in Illinois and around the midwest since 1988 and is the founder and President of Dynamic Martial Arts. He is also a founding member and board member of the International WingTsun Association – North American Section (IWTA-NAS), the only representative of Leung Ting WingTsun® and Great Grandmaster Leung Ting in North America.
Sifu Adams has taught many hundreds of students through the years. Most WingTsun students and instructors in the midwestern US trace their lineage through him, directly or indirectly, and he is often referred to as the father of WingTsun in the Midwest.
Sifu Adams's main school is in Bloomington, Illinois, but he and his team of instructors also have classes in the Chicago metropolitan area, in Fairfield, Iowa, and in New York City.
Born: Feb 11, 1955
Last updated: Dec 12, 2011