Keith Mazza
Historical Ancestors > Yat Chum > Cheung Ng (Tan Sao Ng) > Leung Yee Tai > Dr. Leung Jan (Leung Tak Wing) > Chan Wah Shun > Ip Man 葉問 (Yip Gai-Man) > William Cheuk Hing Cheung > Keith Mazza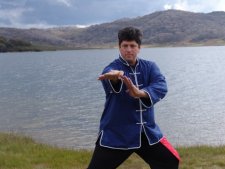 Bio Info:
Master Keith Mazza has been training in the martial arts for over 30 years, specializing in Traditional Wing Chun Kung Fu. A three-time Hall of Fame inductee, Mazza was hand-picked by Grandmaster William Cheung to train and serve as the North American Liason for the World Wing Chun Kung Fu Association.
Read more
Bio (con't)
Aside from expertly training students in the art, he uses his talents to implement Grandmaster Cheung's Stress Management and Pro-Tekt Rape Awareness & Prevention programs into government institutions and corporate facilities. He designs and institutes training programs for military and law enforcement personnel, the physically and mentally challenged, and the elderly in surrounding South New Jersey medical facilities. In addition, Master Mazza collaborates with the Board of Education to aid students, from primary school to college levels, cope with day to day pressures with the implementation of stress/anger management and self-defense programs.
Through this type of dedication to the art and exceptional fighting expertise, Master Keith Mazza honorably became Grandmaster Cheung's first Closed Door Student in 2006.
Last updated: Oct 24, 2011