Jim Kragtwyk
Historical Ancestors > Yat Chum > Cheung Ng (Tan Sao Ng) > Leung Yee Tai > Dr. Leung Jan (Leung Tak Wing) > Chan Wah Shun > Ip Man 葉問 (Yip Gai-Man) > Moy Yat > Sunny Tang (Dunn Wah) > Walter Jakimczuk > Jim Kragtwyk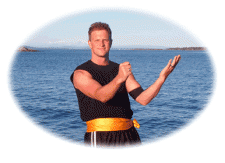 Bio Info:
Welcome. Ving Tsun called to me at the relatively late age of 25. I was at a crossroads in my life where my lifestyle was unhealthy and unsustainable. My Ving Tsun path was and still is a significant part of my physical, philosophical, emotional, psychological and spiritual being. Taken to its deepest and most authentic meaning, Kung Fu is a way of life, not just a hobby.
Read more
Bio (con't)
I started my Ving Tsun training in 1991 when I was fortunate enough to meet and be accepted by my Sifu Walter Jakimczuk and the Sunny Tang Kung Fu family. Sifu Walter is an amazing teacher as well as a profound martial artist. I knew then that I had found my family and my Sifu. I knew it would be a path of many years and a commitment to myself and my new family. I feel truly blessed for the gifts, experiences and relationships that Ving Tsun has bestowed upon me.
I was born in 1965, the youngest of seven children, in Aylmer, Quebec. Growing up as a child and teenager, I was strongly influenced and attracted to martial arts by watching Bruce Lee movies and the movie and tv series "Kung Fu" in the 1970's. Bruce Lee inspired me to believe that anybody, despite his or her body size or strength, could be a master martial artist. The Kung Fu TV show modeled the humble, philosophical, moral and spiritual side of martial arts.
I have been training and teaching Ving Tsun for over 17 years. I am a certified Gold Sash Instructor from the present Grandmaster, Sunny Tang. The Sunny Tang Family is one of the few Ving Tsun lineages that has direct lines to the Grandmaster Yip Man, via Moy Yat. As a young man, Sunny Tang spent many hours together with his teacher, Moy Yat, and neighbor Yip Man. Many people have trained Ving Tsun, but very few were shown the complete system in all its depth and applications. Our lineage has maintained the purity of knowledge in this system that few can claim. I am also a 5th level certified coach of the Confederation of Canadian Wushu Organizations.
I have had many amazing moments and experiences through my Ving Tsun journey. Some of the highlights have been competing in and winning National Champion in the advanced sparring at the National Kung Fu Championships in Toronto in 1994; participating in the many martial arts demonstrations in Ottawa and Toronto for the Sunny Tang Family; the many incredible relationships and bonds created with my kung fu brothers and sisters and building our own student base/school In Victoria.
I am a strong believer in living a balanced and healthy life. My other passions include, wilderness backpacking and travel, playing in an Afro-Brazilian percussion and movement band, Gabrielle Roth's 5 Rhythms Dance, fitness, philosophy/spirituality, movement therapy and continued growth towards personal integrity. I hope that Ving Tsun speaks to you as deeply and intensely as she has with me.
Last updated: Mar 3, 2012