Gordon Lo (Lu)
Historical Ancestors > Yat Chum > Cheung Ng (Tan Sao Ng) > Leung Yee Tai > Dr. Leung Jan (Leung Tak Wing) > Chan Wah Shun > Ip Man 葉問 (Yip Gai-Man) > Duncan Leung (Leung Shiu Hung) > Gordon Lo (Lu)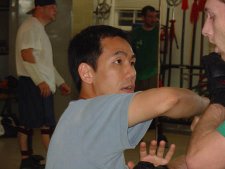 Bio Info:
Son of Lo Man Kam (who was yip Man's Nephew and private student). Started in 1986, then trained under Duncan after his father..
Read more
Bio (con't)
In 1994, Sifu Lo moved to the United States to further his learning with Sifu Leung Shiu Hung (Duncan Leung). Sifu Leung was a private student of Sifu Yip Man. His skill of Ba Zam Do (Wing Chun Knife) is outstanding. Although his training in the United States was extremely rigorous, Sifu Lo studied hard and practiced diligently under the enlightened eye of Sifu Leung. This rare opportunity made it possible for Sifu Lo attain unique skill in Wing Chun.
Today, just as his father before him, Sifu Lo teaches Wing Chun. He conducts on-going classes in the United States in the City of Virginia Beach, Virginia. In addition, he is invited yearly to teach Wing Chun in Europe, where he demonstrates the power and effectiveness of Wing Chun to students and observers. In August of 2006, Sifu Lo successfully led his students in the Wong Tournament, one of the largest kung fu contests in eastern North America. His students contributed a number of champions, and Sifu Gorden, personally, received high praise from the seniors. He has modestly attributed his achievements to his father and his seniors in Wing Chun. His stated goal is to continue their efforts to enhance the status and recognition of Wing Chun Kung Fu around the globe.
Last updated: Apr 2, 2013