Carmelino Guiao
Historical Ancestors > Yat Chum > Cheung Ng (Tan Sao Ng) > Leung Yee Tai > Dr. Leung Jan (Leung Tak Wing) > Chan Wah Shun > Ip Man 葉問 (Yip Gai-Man) > William Cheuk Hing Cheung > Phillip Redmond > Carmelino Guiao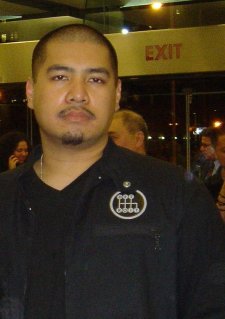 Bio Info:
Sifu Guiao started his martial arts training at the age of 14 with Tang Soo Do, a Korean kicking and punching art. After two years of study he continued to practice free style sparring with friends. Though he had no official teacher, he continued to practice what he had learned in Tang Soo Do.
Sifu Guiao attended the University of Michigan (Ann Arbor). He graduated in 1994 from the University of Michigan-College of Engineering with a B.S.M.E.(Bachelors of Science in Mechanical Engineering) degree.
Read more
Bio (con't)
In 1996, initially Sifu Guiao was looking for a stickfighting instructor so that he could learn an art that pertained to his cultural background. However by accident through a friend, Sifu Guiao met Sifu Redmond. After watching the class and the intensity of the training, he promptly decided to learn Wing Chun and became Sifu Redmond's student. Initial classes were held in a rented space in the large back room of a popular martial arts supply store in a small town outside of Detroit.
Due to the store owner's lease not being renewed, Sifu Redmond had to relocate his classes to Detroit's inner city. Many students decided to give up their training, because of Detroit's rough reputation. Of all the students that were present, only Sifu Guiao and Ryan Stanford were willing to continue their training in Wing Chun.
On June 3, 2000 Carmelino Guiao had the honor of being the first person to take and pass his sifu test at the famed Ving Tsun (Wing Chun) Museum in Dayton, Ohio. The test was administered by Grandmaster William Cheung during a seminar held at the museum. Present at his testing were Sifu John Clayton, Sifu Keith Mazza, and Sifu Benny Meng.
Sifu Carmelino Guiao is currently the assistant sifu (instructor) of Traditional Wing Chun at the Michigan Wing Chun Academy.
Last updated: Mar 3, 2012