Anthony Iglesias
Historical Ancestors > Yat Chum > Cheung Ng (Tan Sao Ng) > Leung Yee Tai > Dr. Leung Jan (Leung Tak Wing) > Chan Wah Shun > Ip Man 葉問 (Yip Gai-Man) > Moy Yat > Lee Moy Shan > John Crescione > Anthony Iglesias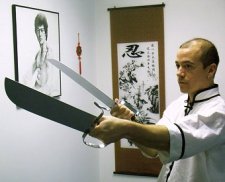 Bio Info:
Anthony Iglesias began his Martial Arts training in 1979 under the guidance of his older brother who was learning the Ishin Ryu style of Karate, boxing and also the Filipino Martial Arts. He also trained with his brother's best friend, NYC boxing champion, the late Mario Pontillo
Read more
Bio (con't)
Anthony later turned to Sifu James O'Brian to learn the White Crane style of Gung Fu and then later directed his full attention to Traditional Wing Chun Gung Fu under Sifu Randall Segrue and SiGung William Cheung. An open mind to all styles of Wing Chun, Anthony has studied other Wing Chun systems directly and indirectly by noted masters such as Duncan Leung, Alan Lee, Ip (Yip) Chun, Augustine Fong and Sifu Francis Fong. Anthony is currently a full-time student under Sifu John Crescione. A constant student, Anthony travels monthly to his hometown of New York City to train with his Sifu and on occasion even further to train with other masters. Ami To Fo!
Sifu Anthony is available for Seminars.
Last updated: Mar 3, 2012