Juergen Baha
Historical Ancestors > Yat Chum > Cheung Ng (Tan Sao Ng) > Leung Yee Tai > Dr. Leung Jan (Leung Tak Wing) > Chan Wah Shun > Ip Man 葉問 (Yip Gai-Man) > Leung Sheung 梁相 > Leung Ting 梁挻 > Keith Ronald Kernspecht > Stefan Fischer > Juergen Baha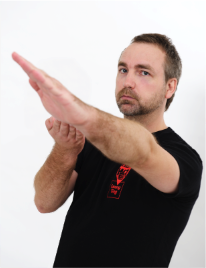 Bio Info:
Si-Hing Juergen Baha started to learn Martial Arts in his teenage years more then 20 years ago. Taekwondo was a very popular sport in his German hometown at that time and so he joined a local club where he trained passionately for several years.
Read more
Bio (con't)
Eventually, after an excursion into classical, western, boxing training, he entered a WingTsun (WT) school in 1995, owned by his future Si-Fu, Stefan Fischer. Following a demonstration and trial lesson he knew that he had found what he was looking for in a Martial Art. What impressed him so much about WT was that it is a straight to the point self-defence system, mostly based on a few simple fighting principles, and its tactile (clinging hands) reflex training.
In 1999 Juergen became a student at the Instructor Academy of the European WingTsun Organisation (EWTO), located near Heidelberg in Germany. It was in this same year that he first came to Australia where, for a few months, he trained daily as a full-time student at the headquarters of the Australian WingTsun Organisation in Sydney, under Stefan Fischer (Australia's Head instructor).
Back in Germany he started teaching Leung Ting WingTsun in the former school of his Si-Fu, where he first explored WT. He continued his training at the EWTO Instructor Academy and eventually opened his first school.
In 2003 he came to visit Australia again, this time deciding to stay and live in the "Land Down Under". Following a suggestion from Si-Fu Stefan, Juergen opened Queensland's first school of the Leung Ting WingTsun Kung Fu System in Brisbane. Si-Hing Juergen currently holds a 2nd technician level in WT and is one of Master Fischer's most senior students. To further his skill he frequently visits the Australian HQ in Waterloo, Sydney, participating in the Instructor Training weekends.
Last updated: Mar 3, 2012